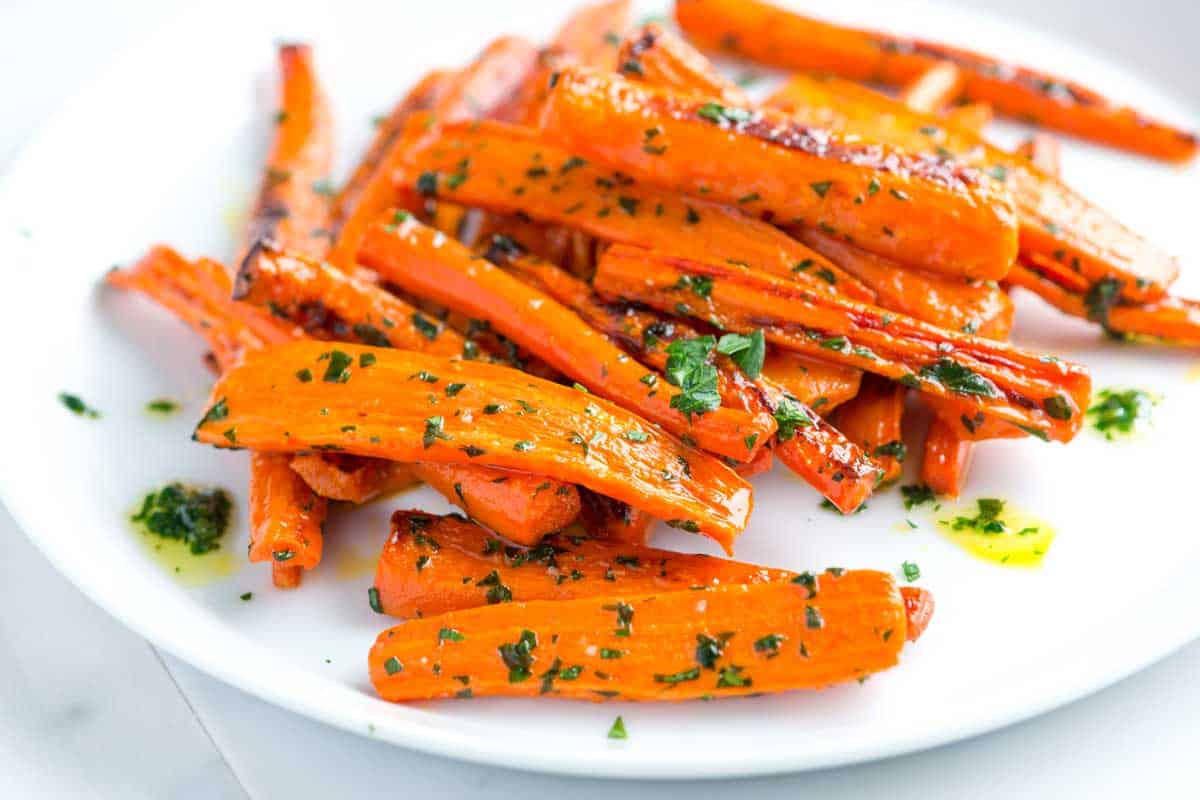 This roasted carrot recipe is a simple and tasty addition. The carrots are sweet and tender with slightly caramelized edges. Served with our garlic parsley butter, carrots are delicious garlic and fresh. Skip to the recipe for roasted carrots
Roasted carrots are sweet, soft and absolutely delicious. For this recipe, we toss the roasted carrots perfectly with the sworn butter in the garlic and parsley. These are amazingly delicious and look amazing on the table. For another easy recipe, take a look at these honey-roasted carrots with dripping tahini sauce on top or my favorite carrots in maple cumin.
These simple carrots never fail to impress. We like to serve them alongside whole roasted chicken, my mom's baked salmon with lemon and dill and our roasted pork almonds with apples and onions. They are also perfect for coating bowls of cereal or rice.
How to roast carrots
Roasting is my favorite way to cook carrots. It does not take long to cook them, especially if you cut the carrots into small pieces. I also like how the roasting brings out the sweetness of the carrots. Roasting carrots is completely simple. Here's how we do it:
Preheat the oven to 400 ° F to 425 ° F
Toss sliced ​​carrots with a little fat (like olive oil, melted butter or coconut oil) and season with salt and pepper. For more flavor, add other spices or spice mixture at this point.
Roast for 25 to 30 minutes until softened and the edges begin to brown.
The method is very simple and you can roast most of the vegetables in it. See our recipes for roasted mushrooms, mushrooms, sweet potatoes, green beans and butter pumpkin for further inspiration.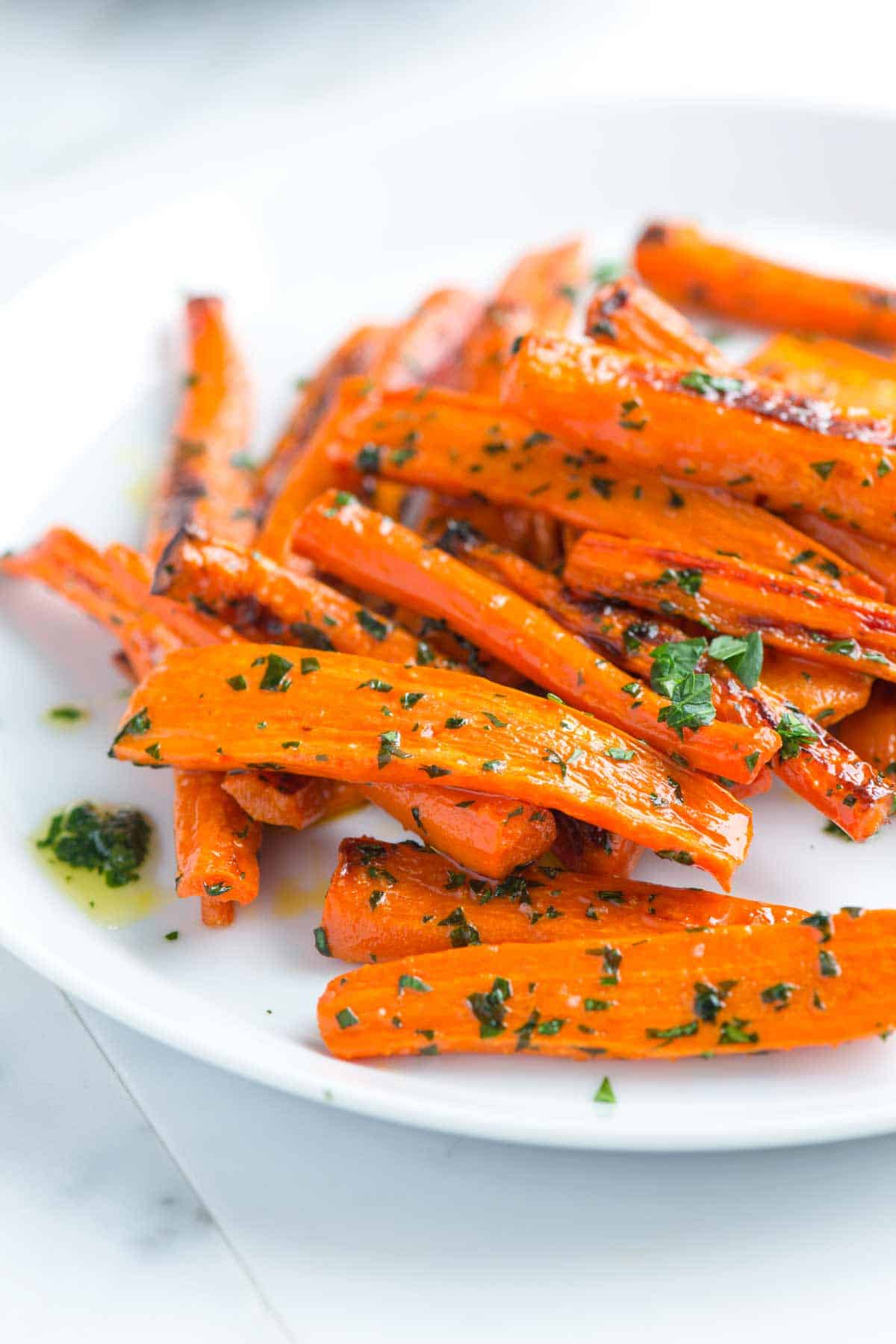 Once the carrots come out of the oven, I like to toss them with garlic and parsley butter. It's completely optional, but it's completely divine!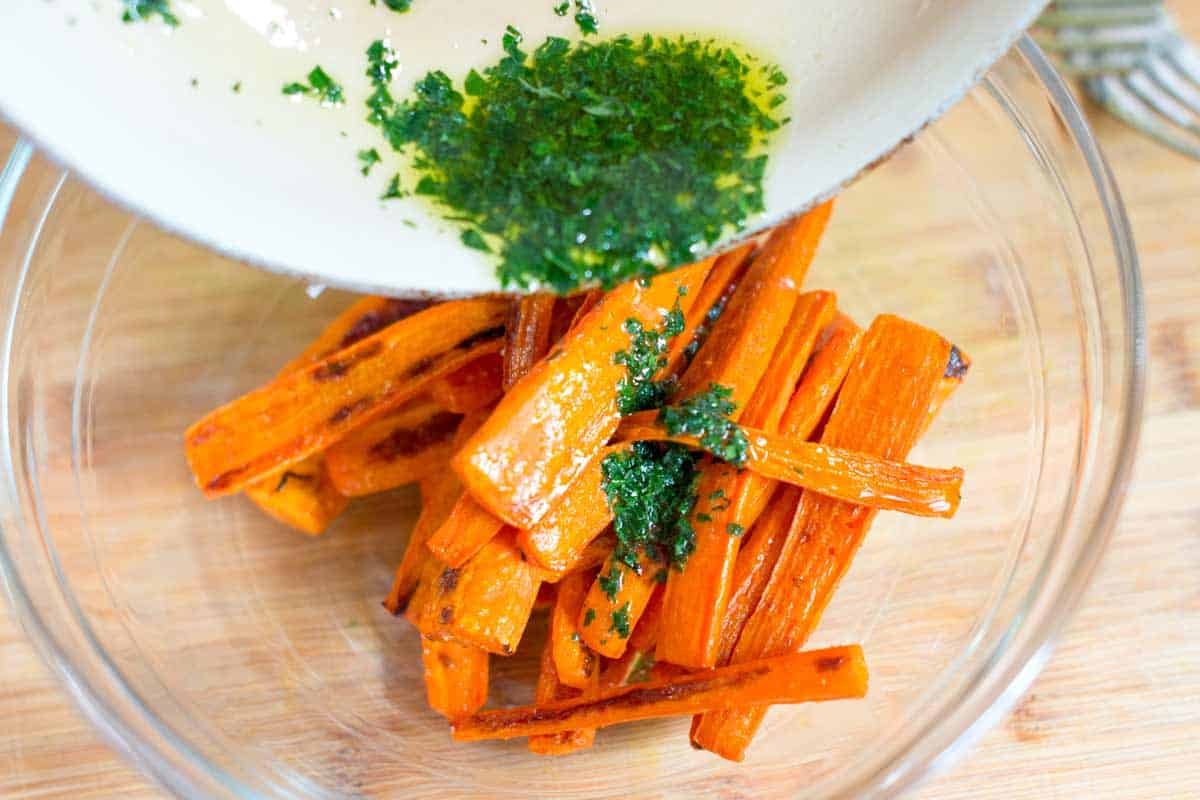 More easy additions
The recipe was updated, originally published in October 2013. Since this publication in 2013, we have included the recipe to make it clearer. Adam and Joan
Roasted carrots with garlic Parsley butter
Here we toss a perfectly roasted carrot with butter soaked in garlic and parsley. Instead of parsley, consider adding basil, crushed red pepper flakes, dill, cumin or other favorite flavors. The recipe below is more of a template than a strict recipe. Carrots are a wonderfully tasty roast, but so are peas, pumpkin, potatoes or other durable vegetables you will find in season. Feel free to swap them for something else.
Makes 4 servings
You will have to
1 1/2 pound carrots, peeled with cut edges (8 to 9 carrots)
1 tablespoon extra virgin olive oil
1/4 teaspoon kosher salt
1 tablespoon butter
1 clove of garlic
1/3 cup fresh parsley leaves loosely packaged, chopped
directions
Roasted carrots

Preheat the oven to 425 degrees Celsius and line a pan with baking paper in aluminum foil. Cut carrots into 2 to 3-inch sticks. (Depending on how wide the thicker edges are, you may need to spread each stick in half, along its length). Throw carrots on the baking tray with the olive oil and salt. Make sure the carrots are coated and then spread out into one layer. Roast carrots, stirring twice, until soft with lightly browned edges, 25 to 30 minutes.

Make garlic and parsley butter

While the carrots are roasting, melt butter in a small pan over low heat. Use the back of a large knife to gently crush the garlic clove. Remove the skin and then add a clove of butter along with the parsley. Wait until the butter is bubbling gently and then cook for a minute. Slide the pan over the heat and set aside for 10 to 15 minutes. Remove and discard the garlic.
Adam and Joan's tips
Nutrition per serving: Calories 118 / protein 1 g / carbohydrate 15 g / Dietary fiber 4 g / Total sugars 7 g / Total fat 7 g / Saturated fat 2 g / Cholesterol 8 mg
author: Adam and Joan Gallagher