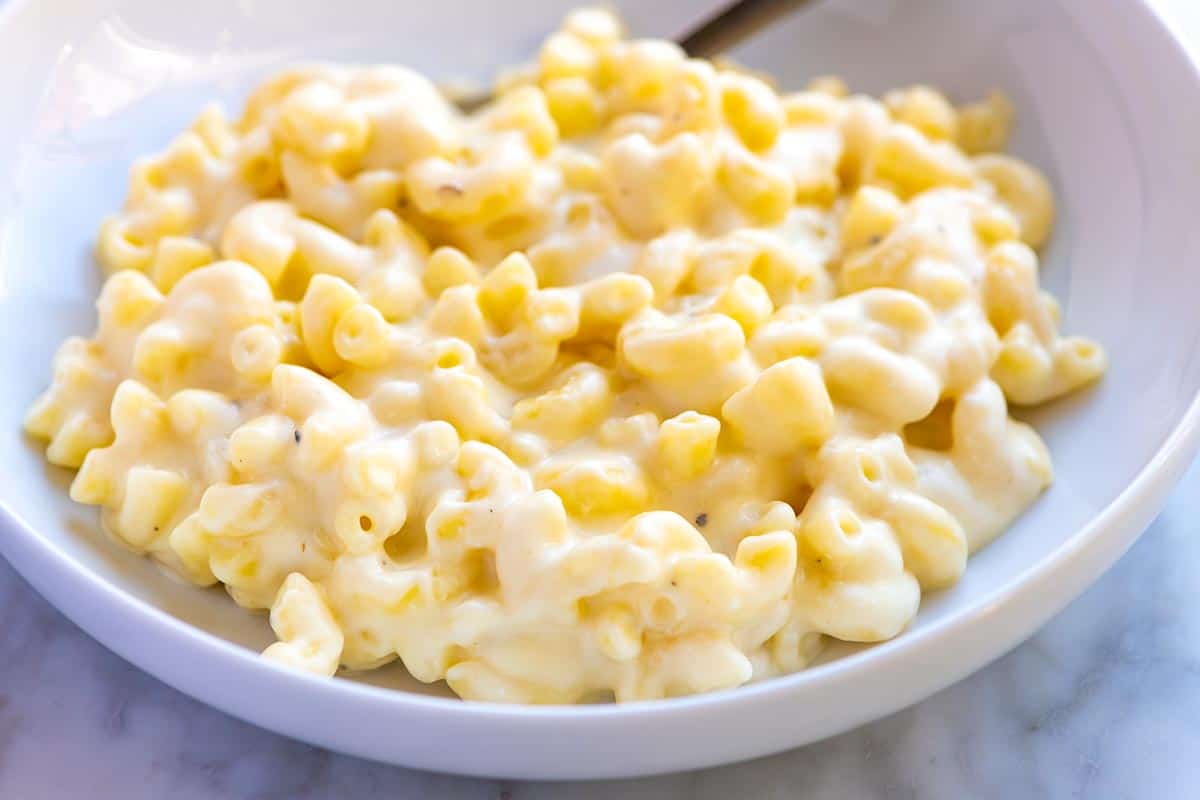 Everyone needs a recipe for homemade Mac & Cheese in the back pocket, and this is ours. It's simple to make, fantastically delicious and makes macaroni and super cream cheese. Skip to the easy ultra-creamy Mac and Cheese recipe
How to make the most creamy macaroni and cheese
You're just looking at Six ingredients (plus salt and pepper). It Can even be done in less than 30 minutes (Maybe less!).
I like this You can keep it as a quick Mac & Cheese stove or slip it into the oven to get bubbling and brown. I love it in both directions.
We're going to call it our basic mac and cheese – not because it's not terribly tasty, but because it's the perfect base for other variations. Take a look below for some suggestions.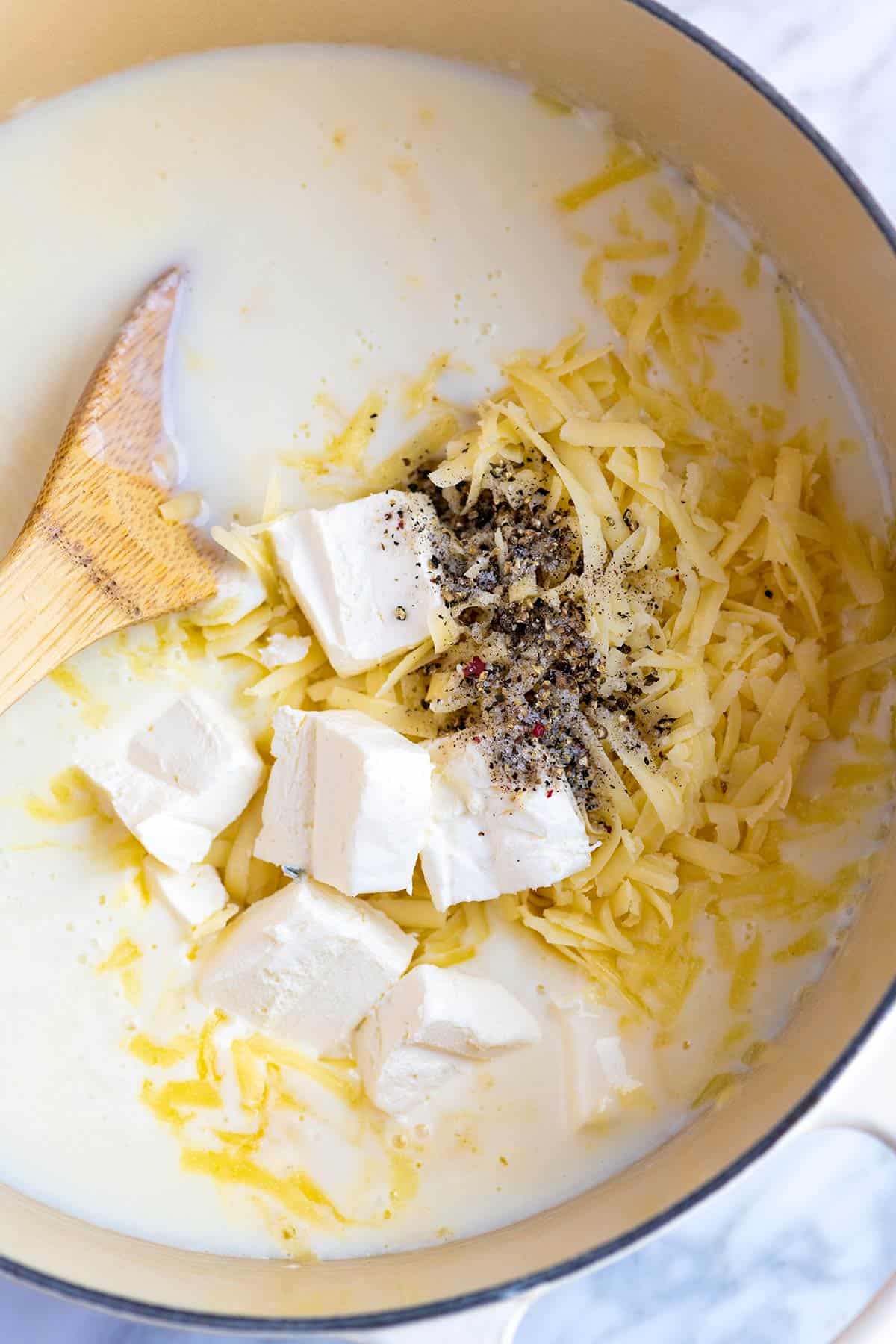 To make our recommended macaroni and cheese, you will need the following products:
pastaA: The shape and size are entirely up to you. Look for pasta that will hold the creamy sauce. Elbow macaroons and shells are great options.
Butter and flour: It is the combination of butter and flour that thickens the sauce. We like to use unsalted butter for this and then adjust the salt to taste when preparing the sauce. However, salty butter will work if that's all you have.
Cheddar cheese: Every time we make macaroni and cheese, we come to a sharp white cheddar cheese. It is delicious and melts beautifully. For more cheese suggestions check out our comments below. Whichever cheese you use, it is best to grate it yourself. I know it's extra preparation time, but hand-grated cheese melts much more easily into the sauce.
Cream cheese: Mac & Cheese would be great with just cheddar cheese added, but to make it extra creamy, mix in some cream cheese. It adds a lovely silky texture, and since it has a bit of stinginess, it brightens up the taste a bit.
salt and pepper: No one wants a spicy cheese sauce! Be sure to taste the sauce before serving. If it does not pop, add some more salt to the pot.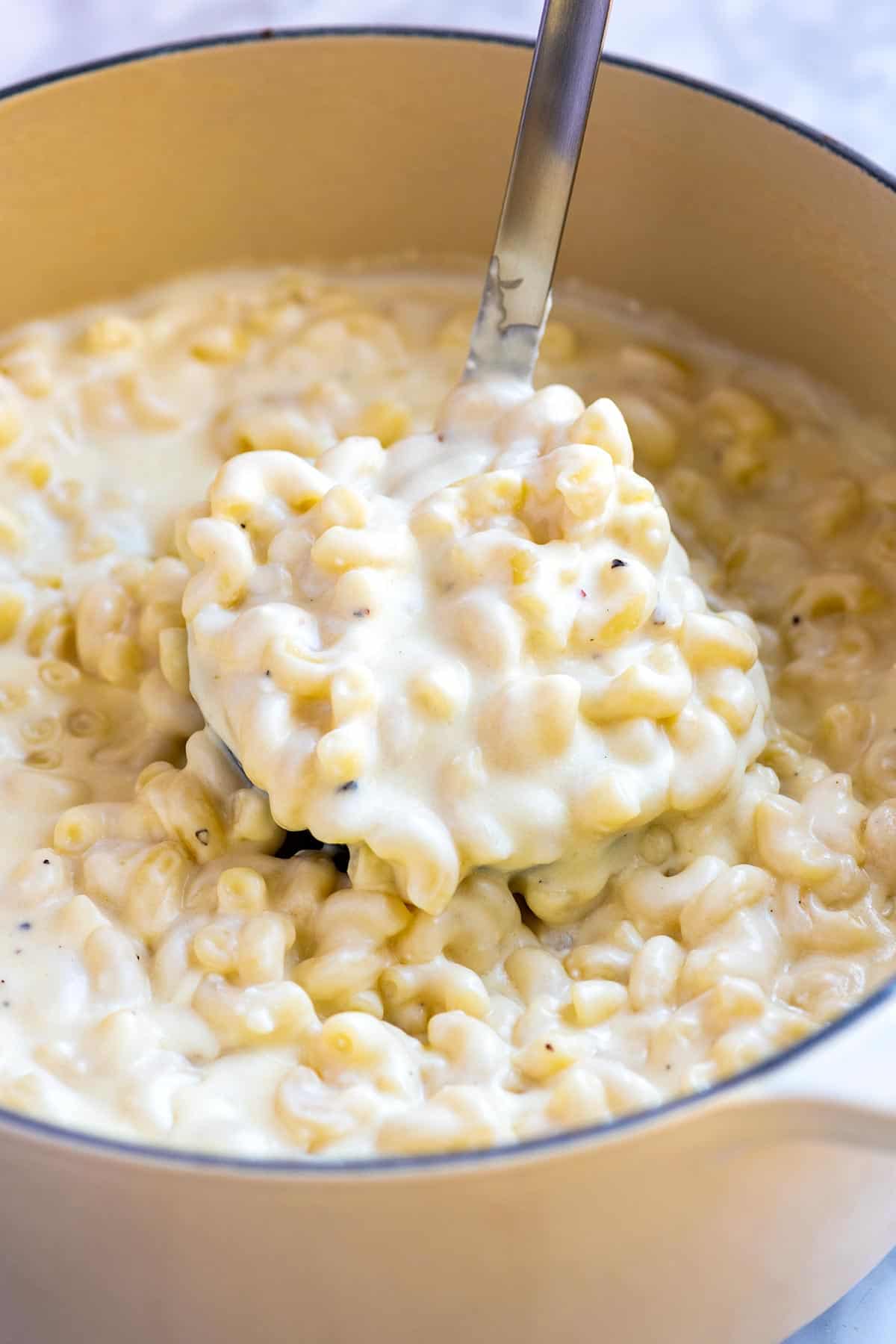 Macaroni and cheese variations
This recipe is easy to adapt to other variations. Here are some of our favorites:
Baked Mac & Cheese: Once the pasta sauce and cheese are combined, add it to a baking pan and bake with a little more cheese and bread crumbs sprinkled on top. We shared these baked macaroni and cheese some time ago.
No Mac & Cheese: Fresh garlic and roasted garlic are excellent in this recipe. Add one of them to the butter just before adding the flour. For fresh, I would use 2 to 3 nails. For roasted garlic it can be increased to 6 or more teeth. See our recipe for making roasted garlic.
Use a variety of cheeses: Cheddar is not the only cheese to use. Try to easily melt Gruyere, Fontina or Monterey Jack. For more flavor, a little Parmesan or Pecorino cheese is adorable, and for a more mature dish, try blue cheese!
Spicy macaroni and cheese: Mustard (Dijon powder or mustard), nutmeg and a pinch of cayenne pepper are classic additions to the cheese sauce. Delicious smoked paprika is also delicious.
Broccoli Mac & Cheese: Favorite for kids! Stir in roasted broccoli or steamed broccoli into the pot before serving. Here's how we make roasted broccoli.
Easier Mac & Cheese: Replacing half of the cheese sauce with crushed cauliflower cuts calories and still tastes amazing.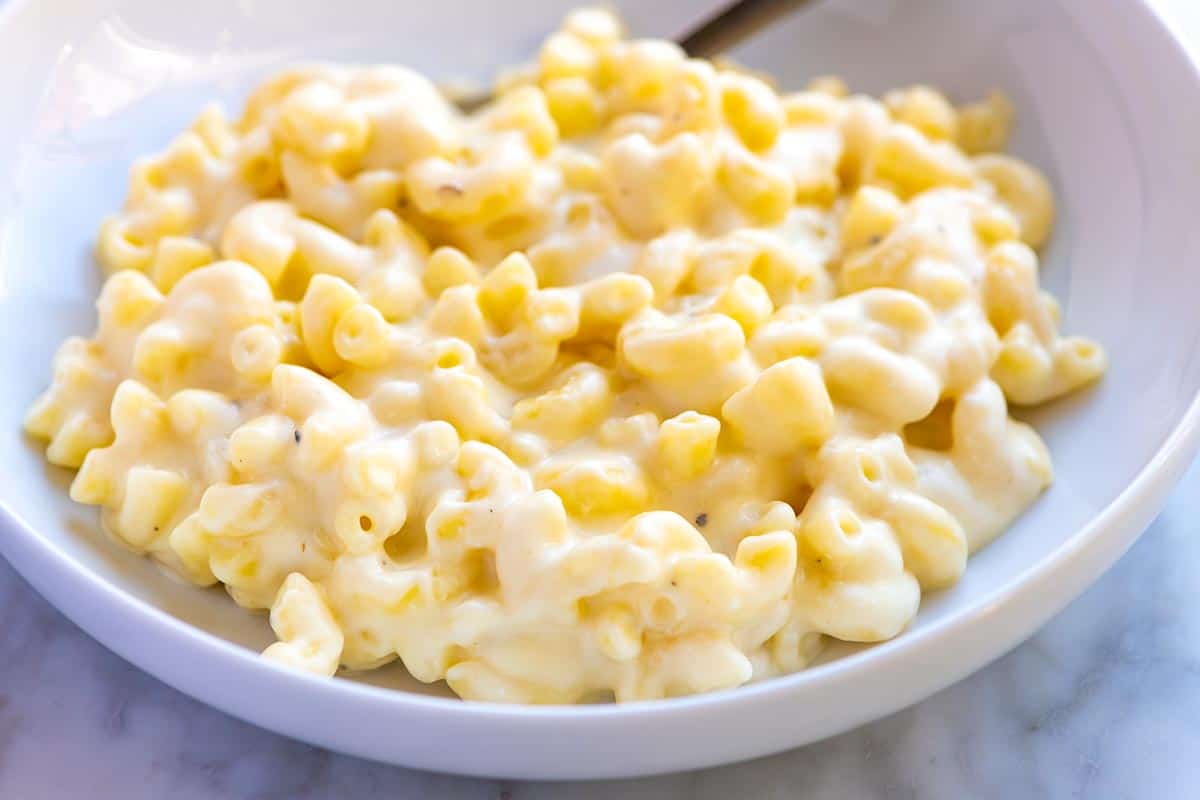 More easy recipes
Easy Ultra Creamy Mac and Cheese
This is our quick and easy recipe for macaroni and cheese. It is made on the stove and does not require baking. That does not mean it can not be baked. We shared how in the recipe below. Thanks to butter, flour and milk the sauce is like velvet and super creamy. To the sauce we add a whole pound of cheddar cheese (the sharper the better) and also a little cream cheese. Cream cheese is optional, but it adds sourness and even more cream.
Makes 8 servings
Watch us prepare the recipe
You will need
1 kilo of dried pasta such as elbow macaroni, shells or penne
5 tablespoons (70 g) butter without salt
5 tablespoons (45 grams) flour for each purpose
Preferably 5 cups (1180 ml) of milk, heated, whole or 2% reduced fat
1 kilo of white, grated cheddar cheese
4 ounces cream cheese, optional
1/2 teaspoon fine sea salt, and more to taste
1/2 teaspoon freshly ground black pepper
directions
Bring a large pot of salted water to a boil, add the pasta and follow the package instructions, but cook for one minute less than the package requires. drain.

Meanwhile, prepare the creamy cheese sauce. Melt the butter in a large pot with a high side or in a Dutch oven over medium heat. Sprinkle the flour over the melted butter and whisk the butter and flour together and around the pan until they smell toasted and look light brown; 2 to 3 minutes.

While whisking, pour in the hot milk. Continue to cook while constantly whisking until the sauce begins to boil and thickens. (The sauce thickens only after it has reached a boil.)

Lower the heat to low and then mix in the cheddar and cream cheeses, salt and black pepper. When the sauce is smooth and velvety, stir in the cooked pasta. If the sauce looks wet / thin, do not worry, the pasta slightly absorbs the extra moisture as it cools. Turn off the heat and then cover with a lid. Leave for 5 minutes, stir once more, then serve.

Baked Mac & Cheese

After adding the pasta to the cheese sauce, sprinkle over a large baking pan, sprinkle with bread crumbs (optional), and more grated cheese. Bake, uncovered, in an oven at 375 degrees Fahrenheit until bubbling and browning from above; 25 to 30 minutes.
Adam and Joan's tips
Storage: Keep covered in refrigerator for up to 3 days. For freezing, transfer to a safe container in the freezer and freeze for up to two months. Bake, covered, in an oven at 350 degrees Celsius for about an hour. Alternatively, thaw overnight and reheat on the stove (if it looks dry, add a tablespoon or two of extra milk).
Nutrition Facts: The nutrition facts listed below are estimates. We used the USDA database to calculate approximate values.
If you're making this recipe, take a picture and tag it #inspiredtaste – we love seeing your creations on Instagram and Facebook! Find us: @inspiredtaste
Nutrition per serving: Serving size 1/8 of the recipe / Calories 571 / Total fat 31.9 g / Saturated fat 18.2 g / Cholesterol 89.6 mg / sodium 564.7 mg / carbohydrate 48.7 g / Dietary fiber 2 g / Total sugars 2.3 g / protein 21.8 g
author: Adam and Joan Gallagher