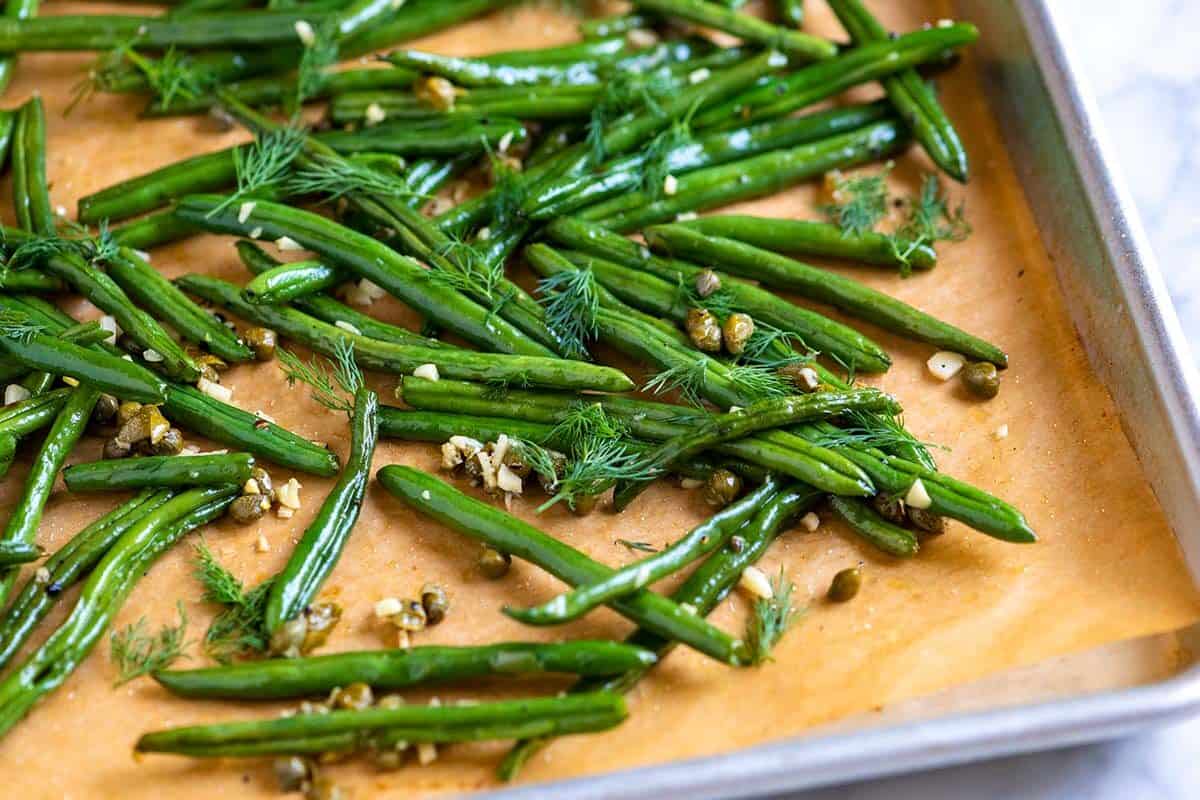 Here is our easy and easy recipe for roasted green beans made with garlic, capers and herbs. These beans are sweet, soft and tasty. Our family loves this green bean! Skip to the recipe for roasted green beans
How to roast green beans
I love roasting vegetables, in fact, we have already shared our recipes for roasted cauliflower, potatoes, broccoli, carrots and more.
Baked green beans are sweet, soft and tasty in the oven. You can keep them simple and roast them with oil, salt and pepper or try our garlic caper mixture for added flavor.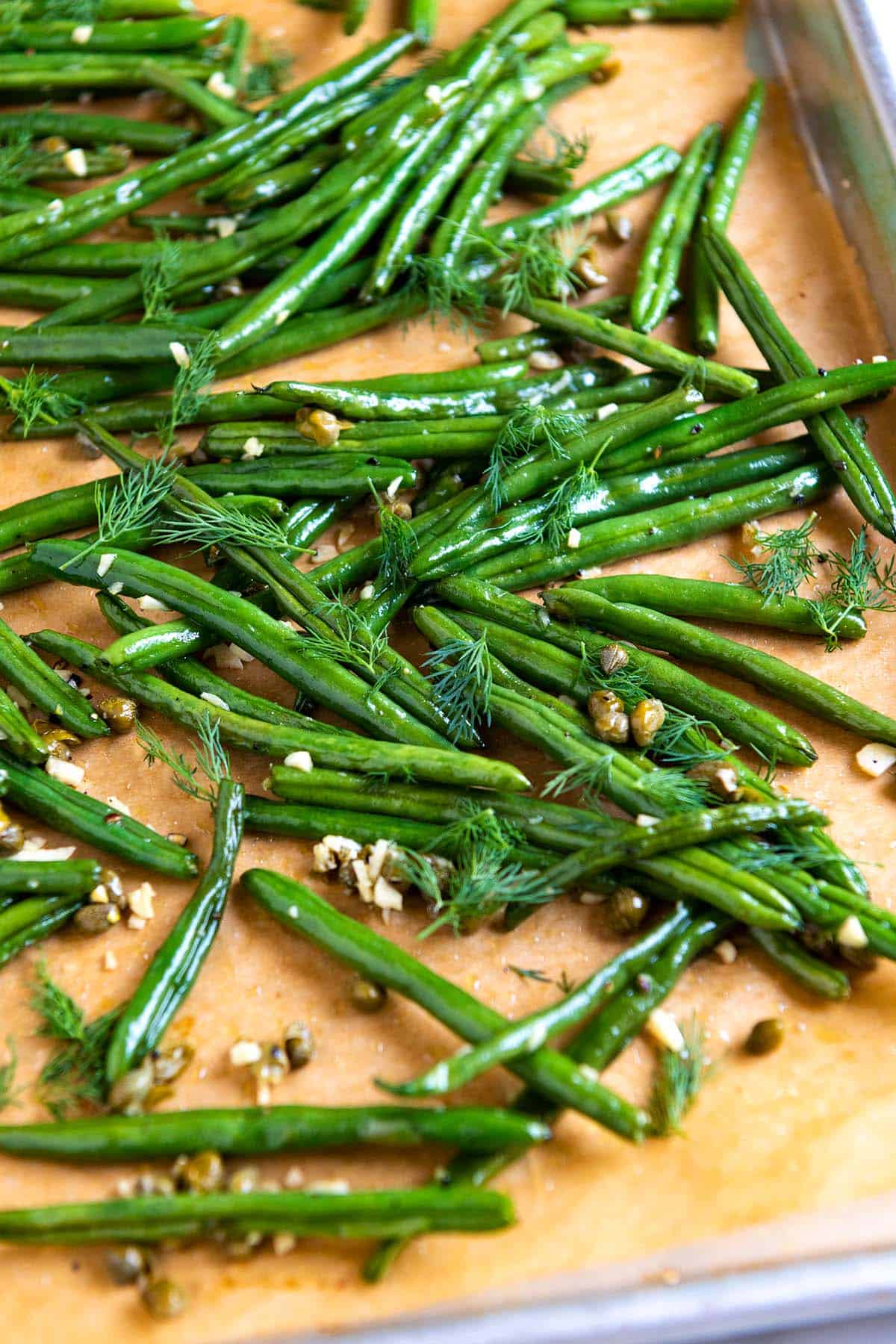 To roast the beans, follow these simple steps. (The full recipe is below.)
Toss chopped green beans with oil, salt and pepper, then spread them on a baking sheet, making sure they are in one layer. If they are stacked on top of each other, they will form steam instead of roast.
Bake the beans in an oven at 425 degrees Celsius until soft and slightly crumpled. It takes 10 to 15 minutes.
Discard the roasted beans with a mixture of ground garlic and capers, then roast them for a few more minutes. Serve the green beans with a little fresh dill scattered on top. So good!
I love these beans with mashed potatoes and gravy or on the side of these juicy pork chops. We also use this flavor combination of garlic and capers in making this baked salmon. This bean and this salmon would be a great pair.
More green bean recipes
Roasted green beans and garlic grass
Here is our easy and easy recipe for roasted green beans made with garlic, capers and herbs. You can make these beans in about 20 minutes! Our family loves the delicious and perfectly cooked green beans!
In the recipe below, we shared a basic recipe as well as an optional step to finish the beans in a mixture of garlic, capers and herbs (delicious).
Makes 4 servings
You will have to
Basic roasted green beans
1 tablespoon olive oil
1 kilo of green beans, the ends of the stem detached
1/4 teaspoon thin sea salt
1/4 teaspoon freshly ground black pepper
Optional sniper and garlic version of garlic
2 tablespoons squeezed, coarsely chopped
1 tablespoon ground garlic, 3 to 4 cloves
1 tablespoon chopped fresh dill or use a teaspoon of dried dill
directions
Preheat the oven to 425 degrees Fahrenheit (220C). Line a pan with baking paper or a silicone baking mat – coating the pan is not absolutely necessary, but it does help with cleaning.

In a large bowl, toss the green beans with the oil, salt and black pepper. Add the seasoned beans to the baking pan. Spread them in one layer.

Roast until the beans are soft and slightly wrinkled, 10 to 15 minutes.

Serve or proceed to the next step if you are making the green beans and garlic.

Add the garlic and capers to the roasted beans. Toss well, spread everything into one layer and continue to roast for another two to three minutes so that the garlic cooks. Toss well, then serve with the dill scattered over.
Adam and Joan's tips
Dill Replacement: Any fine herb can be used to replace the dill. Try basil, parsley, coriander or tarragon (use about half the amount of tarragon because it has a stronger flavor).
Nutrition Facts: The nutrition facts listed below are estimates. We used the USDA database to calculate approximate values. The mixture of garlic, capers and herbs is included in the calculations.
If you're making this recipe, take a picture and tag it #inspiredtaste – we love seeing your creations on Instagram and Facebook! Find us: @inspiredtaste
Nutrition per serving: Serving size 1/4 of the baking pan / Calories 71 / Total fat 3.8 g / Saturated fat 0.6 g / Cholesterol 0 mg / sodium 253.7 mg / carbohydrate 9.2 g / Dietary fiber 3.3 g / Total sugars 3.7 g / protein 2.4 g
author: Adam and Joan Gallagher