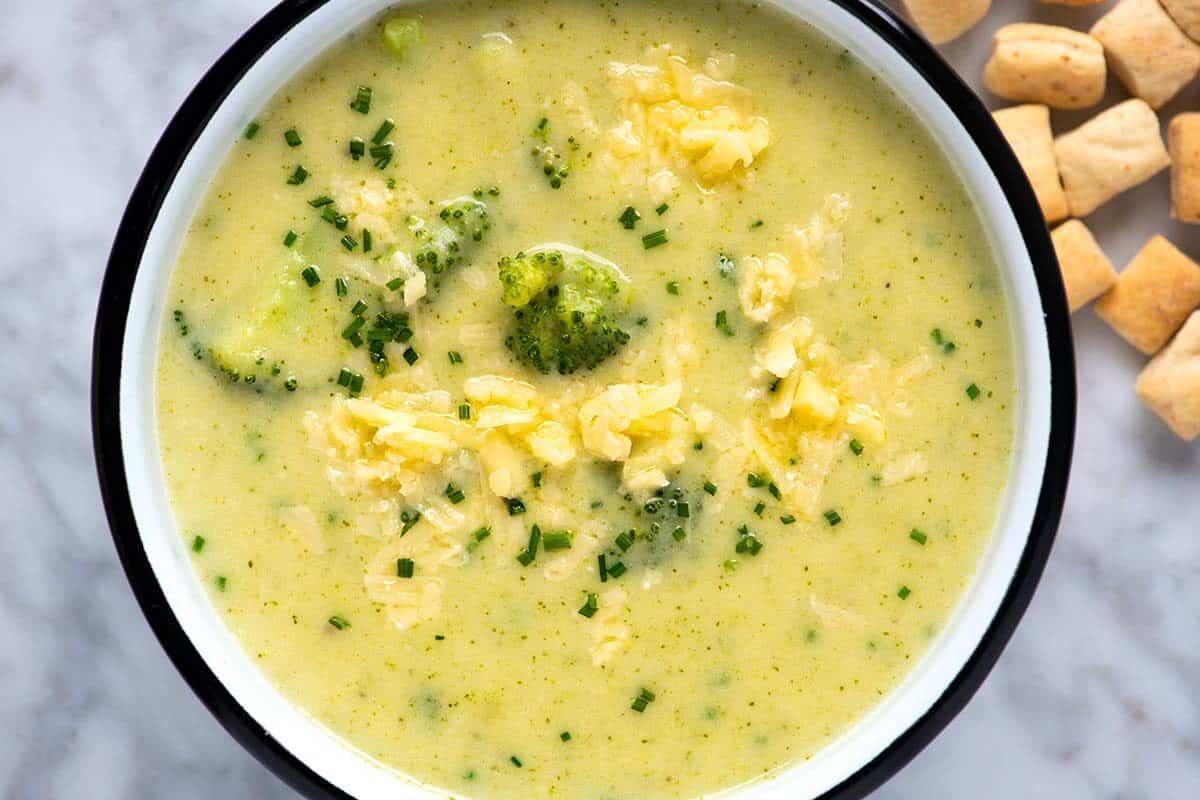 This creamy broccoli cheese soup is laden with broccoli flavor and is particularly cheesy. It is made without flour and gets the thick, creamy base from potatoes! This soup is lighter in calories with all the flavor you expect! Jump into broccoli cheddar soup recipe
It is common to see cheddar broccoli soup made on the basis of flour, butter and milk. The method is not so different from preparing the cheese sauce for macaroni and cheese. First, melt butter, whisk in flour and add milk and heat until the milk thickens. Broccoli soup made this way is delicious, but it's a little too heavy for us.
Our healthier version skips the butter and flour paste and calls for one potato to do the thickening. It halves the amount of butter needed, says hello from the flour, and does not require more cups of milk.
Amazingly, even with skipping all of these ingredients, our soup is creamy, rich and delicious! So much so that you will not miss them even a drop.
How to Make Cheddar Broccoli Soup
If you've made our ceramic vegetable soup before, this recipe might seem a little familiar. Here are the basic steps; Remember that the whole recipe is below.
Cook whole onions and garlic cloves (no need to grind!) In a little butter until soft and sweet.
Stir in chopped potatoes, broccoli stalks (the flowers come into play later), salt, pepper, red pepper flakes (for heat), and a teaspoon of Dijon mustard. Cover everything with water or soup and cook until softened. I find heaven works just fine in this soup. I know we seem to need to add more flavor with soup, but the use of water allows the broccoli to shine. We take the same approach in making this tomato soup.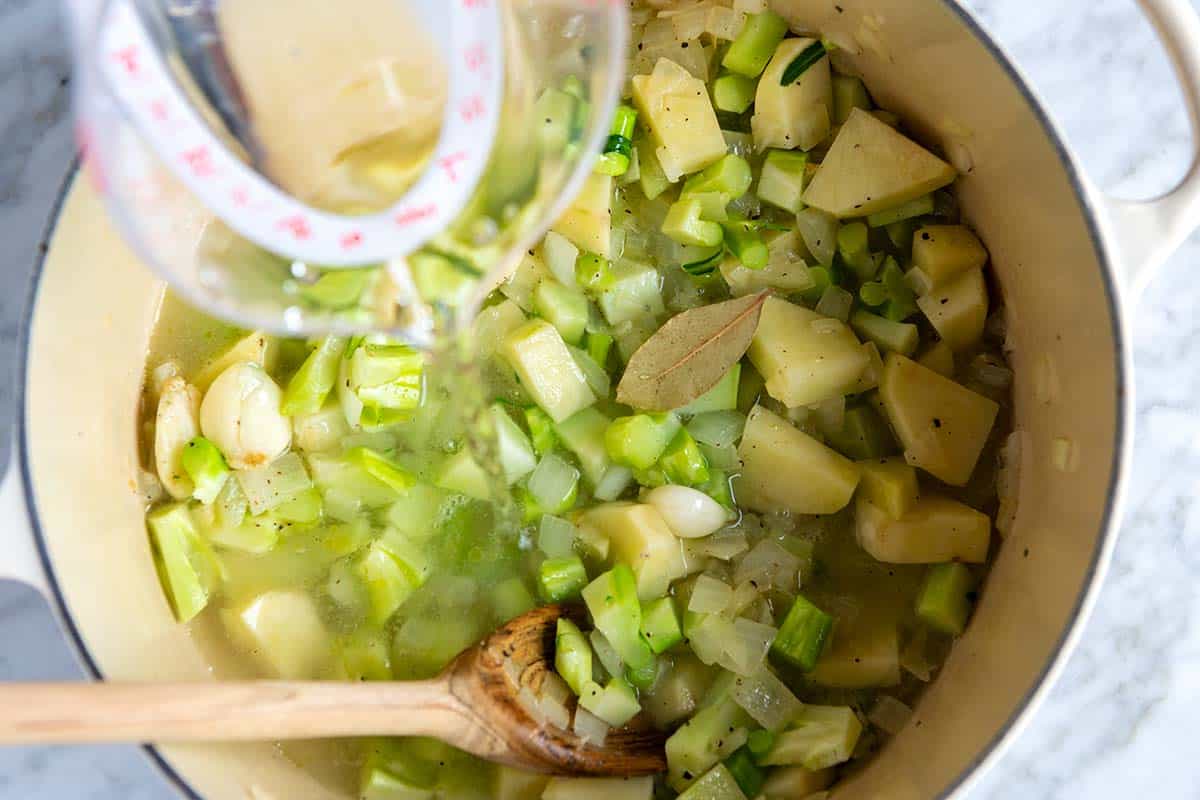 Add half of the broccoli flowers, cook until green and soft, then stir in the soup. I use my dipping blender to make things easier. Since we brought back these broccoli flowers, they are still bright green, making our soup beautiful.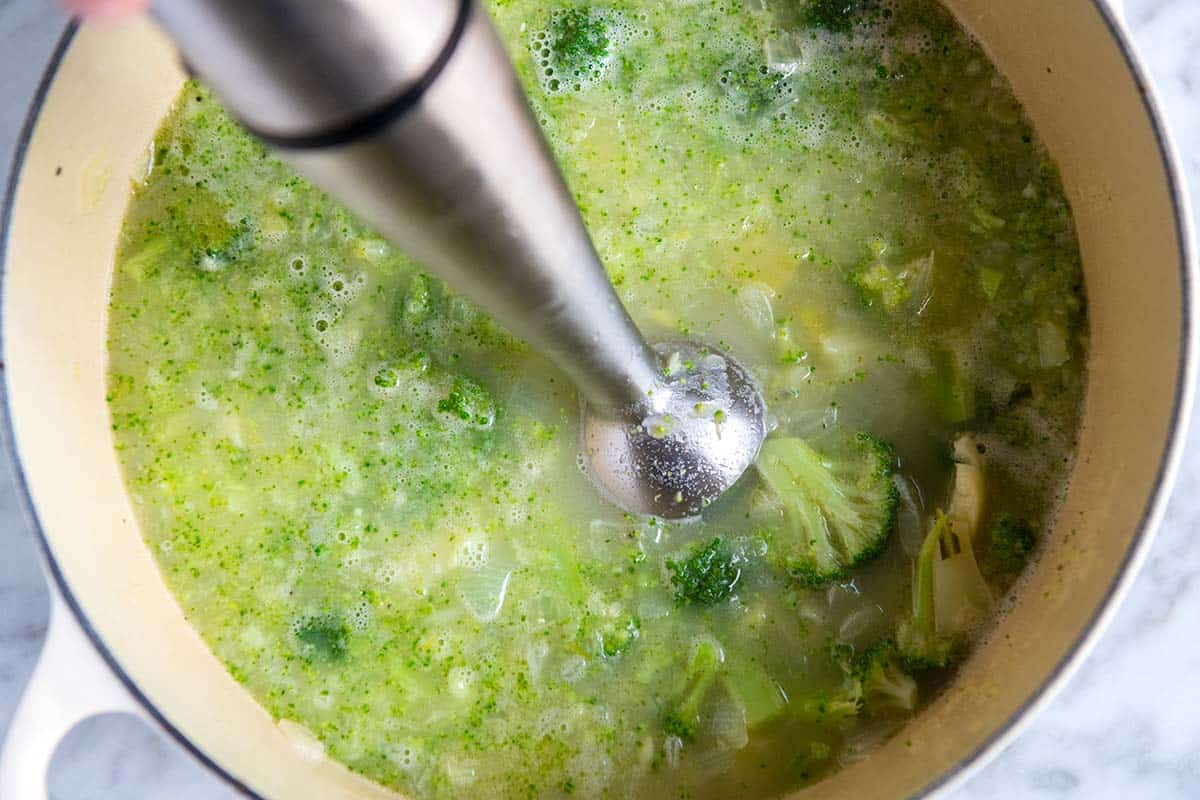 Now that the soup is particularly creamy, we can add the remaining broccoli florets and cook until they are green and soft. Thus, the base of the soup is green and creamy and still get a few small bites of broccoli.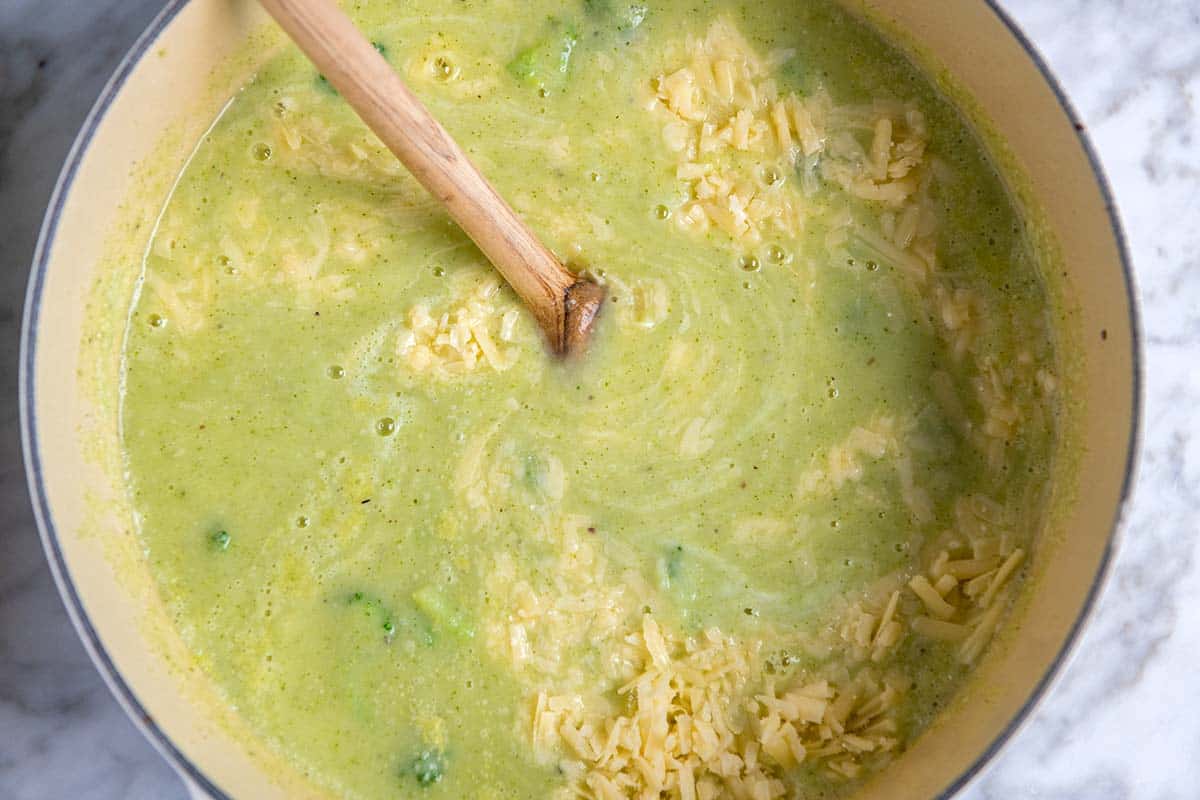 Stir in a lot of grated sharp cheddar cheese – I like extra-sharp white cheddar – then stir in 1/2 cup of half-and-half if you want your soup to be extra creamy. Half-half is sold in the US and is a mixture of whole milk and cream – either milk or cream.
and that's it. Cheddar soup, green broccoli and extra cream. We love it!
Tip: Buy broccoli with stalks
Buy broccoli with long stalks for this recipe if you can find them. The stems taste fantastic and are excellent when cooked with the potato as a base for this soup. In the recipe below we will guide you in preparing the stems.
If you can not find broccoli with the stems still attached, you can make this soup. First, buy two pounds of broccoli flowers and cook about half of them with the potatoes instead of the stems (as suggested in the recipe). Save the remaining flowers for a later date and follow the instructions in the recipe for adding them.
More vegetable soup recipes
Our favorite broccoli cheddar soup
This broccoli cheese soup is loaded with broccoli flavor and is particularly cheesy. It is made without flour and butter and gets its thick, creamy base from potatoes! When you buy this soup, look for broccoli that is sold with long stalks. We chop the stems and cook them with the potatoes. After rapid mixing, the stalks and potatoes become a delicious and creamy soup. If you can only find broccoli heads or broccoli flowers, you can still make the soup. See our tips in the article.
6 servings
Watch us prepare the recipe
You will have to
1 large onion, finely chopped
4 medium garlic cloves, peeled and crushed
2 tablespoons unsalted butter or olive oil
2 pound broccoli with stalks
3/4 teaspoon thin sea salt, and more to taste
1/2 teaspoon freshly ground black pepper
1/8 to 1/4 teaspoon crushed red pepper flakes, omit if sensitive to spices
1 teaspoon Dijon mustard
1 medium to large potato, peeled and chopped
1 bay leaf
4 cups water or soup
1/2 cup half half, optional
8 ounces of sharp, grated cheddar cheese, about 2 cups
Chives thinly sliced ​​for serving, optional
Fish sauce, optional, see notes
directions
Make broccoli

Slice the flowers from the stems. Set the broccoli stalks aside and cut the flowers into small bite-sized pieces (watch our video for reference). Throw the flowers in a bowl and set them aside for a later date.

Grab the broccoli stalks and cut about 1 inch from the bottom of each stalk and discard it. Use a vegetable peeler to peel off the hard outer layer of the stems, then slice the stems into 1/2 inch pieces.

Prepare the soup

Melt the butter in a large pot like a Dutch oven over medium heat. When it melts, toss in the onion and garlic. Cook, stirring occasionally until onion is tender and smells sweet; About 5 minutes.

Add the chopped broccoli stalks, potatoes, 3/4 teaspoon thin sea salt, 1/2 teaspoon freshly ground black pepper, Dijon mustard and red pepper flakes (if using). Cook for two minutes, then add the bay leaf and four cups of water. Bring the soup to a boil and then lower to a low boil. Cook, b Low boiling point, Until the broccoli and potatoes are tender, about 15 minutes.

Mix about half of the broccoli flowers into the soup, cover with a lid and cook until they turn intense and soft green, 3 to 5 minutes. Adding the flowers at this point makes sure our soup stays green.

Turn off the heat, remove the bay leaf and then use a dipping blender to mix the soup until smooth. You can also use a blender, but be sure to blend the soup in groups, do not fill more than half way and hold the lid tightly while stirring. Hot liquids can cause steam to accumulate in the blender, and the top can jump.

Place the pot back on the burner and heat over medium heat. Stir in the rest of the broccoli florets, cover the pot again and cook until they turn intense and soft green, 3 to 5 minutes.

Stir in the half and half and the cheese. When the cheese has melted into the soup, taste and then season with salt and extra pepper to taste. In addition to flavor, add a few beams of fish sauce. Serve with chives sprinkled on top.
Adam and Joan's tips
Make the soup greener: For an even more vivid green color, just before you plan to blend the soup, add a few handfuls of baby spinach leaves and let them simmer slightly into the soup (30 to 45 seconds).
Fish sauce is optional but adds a lovely flavor to sauces and soups like this broccoli cheese soup. Two or three beams season the soup nicely. Think of fish sauce as salt on steroids. It does not make the soup taste like fish but does make the taste pop up.
A recipe inspired by our ceramic vegetable soup!
Nutrition Facts: The nutrition facts listed below are estimates. We used the USDA database to calculate approximate values.
If you're making this recipe, take a picture and tag it #inspiredtaste – we love seeing your creations on Instagram and Facebook! Find us: @inspiredtaste
Nutrition per serving: Serving size 1/6 of the recipe / Calories 295 / Total fat 19.2 g / Saturated fat 11 g / Cholesterol 54.7 mg / sodium 627.3 mg / carbohydrate 19.3 g / Dietary fiber 5.1 g / Total sugars 5 g / protein 14.4 g
author: Adam and Joan Gallagher